Meet the Team
We're a diverse and talented bunch. Here's your chance to get acquainted with some of our key staff members.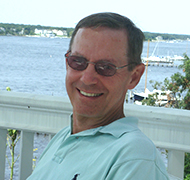 James M. Punderson
Founder & CEO
Eight years after the 1991 launch of Networks & More! (an ed-tech consulting company for K–12 schools) founder and CEO Jamie Punderson decided to branch out. His new division, K12USA, would fill a void: In 1999, schools were newly wired for Internet access.
But aside from online browsing and emailing, little else could be done with this shiny new "toy." Jamie and his team got to work, developing applications like TroubleTrakkerPRO and SecureSchool that would streamline school processes and be managed via Internet connection. There are now more than 20 products in the K12USA collection.
Jamie's diverse background makes him well suited to entrepreneurship. A National Merit Scholar at St. Rose High School in Belmar, N.J., he graduated from the University of Notre Dame, received a Master's in School Administration from Bowling Green State University, and attended law school for two years before rethinking his career path.
On the technical side, Jamie achieved the MCP (Microsoft Certified Professional), CNE (Novell Certified Network Engineer), and A+ Service designations and attended computer-sciences classes at Jersey City State College. He put his knowledge to work by acting as a Networks & More! networking consultant to more than 50 school districts and libraries in New Jersey, New York, and Delaware.
In the field of education, he holds New Jersey certifications as a principal, math teacher, physical science teacher, and English teacher. While teaching algebra and physical science in public and parochial schools, Jamie was selected as a Jennings Scholar in recognition of outstanding teaching. He also served for seven years on a local school board—three years as vice-president and three years as president.
Switching gears for a while, Jamie founded and was president of a bond-investment advisory firm and a stock-brokerage company. During that time (1981), he also became principal of two investment software-development companies, ASPIN, Inc. and VP Data Systems.
Jamie is a superb problem solver, stickler for great customer service, and quality-control "nitpicker." Customers and staff know him for his famously dry sense of humor. A health and fitness buff, he plays tennis six days a week (weather permitting) and works out at the gym. He's also a voracious reader and an amateur-radio enthusiast (call sign W2QO)—who has made contact with 326 out of a possible 340 different radio entities, from Singapore to the South Sandwich Islands.
One of nine kids, Jamie was raised in Lakehurst, N.J. before relocating a few miles east to Island Heights when he was 13. After moving to the Midwest for several years, he returned to this small riverside community, where he and his wife, Sarah, raised three children and started their business.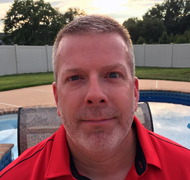 Sean Burns
Tech-Support Manager
After a 20-year career in IT, Sean opted to work closer to home (he had an hour-plus commute to his Camden-based office) and joined K12USA in 2012. That was lucky for us because—in addition to being our crack network-support engineer—he's a key member of our tech-support team.
With his persistence, passion for challenge, and excellent problem-solving skills, Sean spends a good part of every day unraveling our customers' technical issues. He listens carefully to understand their concerns (which may or may not involve a K12USA product), then works to find a solution—usually on the spot.
Sean grew up in Willow Grove, Pa., graduated from Rutgers University, and now lives in Manchester, N.J. with his wife, two sons, two daughters, and Jake the dog. When he's not "running kids around," coaching Little League, or leading a Boy Scout troop—he and his son are both Eagle Scouts—Sean loves to golf, camp, and hike and dreams of being someplace warm (he hates the cold New Jersey winters).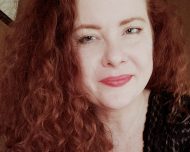 Suzanne Dewees
Administrator
In 1998, Suzanne answered a newspaper ad for a bookkeeper/receptionist position at Networks & More!, which was on the cusp of launching its K12USA division. Excited by the prospect of working at a startup, she left her job (and the long commute) at a Princeton-based construction company, just in time for K12USA's 1999 debut.
The company grew quickly, and so did Suzanne's responsibilities. She now juggles a variety of roles, including customer-service agent, tech-support rep, and benefits administrator. Over the years, she's cultivated an excellent rapport with our clients, who appreciate her wit, quirkiness, and troubleshooting skills. (We were surprised to find out that the bubbly Suzanne was once a painfully shy child.)
A potato fanatic and nature buff, Suzanne also enjoys the outdoors, "dancing like nobody's watching," and road-tripping to New England. But her happiest moments are as a "homebody" in Matawan, N.J. with her first-grade sweetheart—and now husband—Thomas, and their menagerie of pets: Chihuahuas Ripper, Fang, Beast, and Banshee. When not goofing off with her family, you might find Suzanne indulging her creative streak—give her some art supplies and she's likely to knock out a cool drawing or finger painting.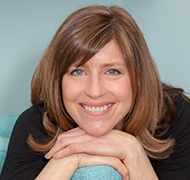 Lisa McComsey
Freelance Writer, Marketing Consultant & Contributor
An award-winning copywriter, Lisa has worked on staff and as a freelance copywriter for publications like Vogue, People, Life, Real Simple, Vanity Fair, Bon Appétit, GQ, House & Garden, Brides, the New York Times, Every Day with Rachael Ray, and Dr. Oz The Good Life. She spent three years as copy director of Allure magazine and is a two-time recipient of the Time Inc. President's Award for Outstanding Achievement. Since 2015, she has helped write about and promote K12USA's products and services. She also authors many of the company's blog posts and press releases.
Lisa cultivated a love for rice and beans while living in Costa Rica and Baja, Mexico during a three-year volunteer stint as a WorldTeach English teacher—giving her a taste of what was to come when she decided to go vegan in 2009. Following her "conversion," she and longtime friend Amy Cramer co-authored The Vegan Cheat Sheet, published by Penguin Books in 2013. When Lisa reintegrated seafood into her diet, she and Amy decided to tell others about their "seagan" transformation in Seagan Eating—The Lure of a Healthy, Sustainable Seafood + Vegan Diet (Penguin Random House, 2016).
An avid bicyclist and runner, Lisa has completed twenty-five marathons, several century rides, and a handful of triathlons. After growing up at the Jersey Shore and vowing "never to go back" once she graduated high school, Lisa attended Bucknell University and then moved to New York City and Latin America—before, yes, returning to her New Jersey roots. She now happily resides near the water, where she endures a two-block commute to the K12USA office.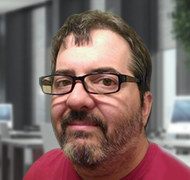 John Serdy
Interface Programmer
When the printing company where he worked as a graphic artist was flooded out of existence by Hurricane Floyd, John floated over to K12USA in 1999. Here, he parlayed his print-design experience into a software-engineering gig—a transition he deems a "happy accident."
While building, updating, and debugging our website's interface, John relishes untangling the complex and ever-changing world of code. A fanatic for detail and fluent in most programming languages, he emerges from his "computer geek" shell from time to time to play the kindhearted guy you hear on the other end of our tech-support line.
Apart from his technical expertise, he has a knack for, well, just about everything. A classically trained pianist who plays keyboard, drums, and guitar, John is one of the stars of Mellow Corporation, a band he and his buddies started in high school. He also dabbles in digitized orchestras and is currently composing his seventh symphony.
Not one to twiddle his thumbs, this Phoenixville, Pa. native attended the Philadelphia College of Art and is a prolific artist who creates everything from environmental landscape art to animated movies. In between creative pursuits, John is busy exploring. Once a week, he commits to going someplace he's never been so he can practice the lost art of relaxation (his favorite hobby).
Despite working with John all these years, we just discovered something we never knew about him: He's a furry (if you're as uninformed as we were, it's someone who's into anthropomorphic characters)—a passion he attributes to his favorite childhood author, Beatrix Potter, and her book, The Tale of Peter Rabbit.
Chris Weimann
Chief Technology Officer
A former machinist, video-game repairman, metalworker, and entrepreneur who dislikes "big corporate hierarchy," the tallest member of K12USA—Chris is 6'8"—joined our staff in 2000.
He got the tech bug at an early age after his mom bought him an Atari 800 and later graduated from the Brick Computer Science Institute. In addition to his role as programmer, Chris is the go-to guy for "unsolvable" tech-support problems (he loves a good puzzle). One of his first projects at K12USA was to revamp WebMailPRO.
Soon after, he and Jamie brainstormed the idea of a school content filter, which propelled Chris to design SecureSchool in 2002. He continues to write updates for all our appliance- and cloud-based solutions and is working on new-product development.
A native of Point Pleasant Beach, N.J., Chris now lives in Toms River. During his free time, he plays with his favorite "toy," the Kindle, reading books on science fiction, politics, and economics.
Summary
Service Type
K12USA Team – Tech & Customer Support
Provider Name
Area
Description
Meet key members of Team K12USA! We come from a wide variety of backgrounds and experiences, and we look forward to serving you with what our customers call "the best support in the industry."