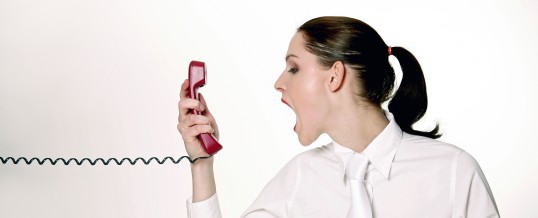 These days, lousy tech support is not only accepted, it's expected. How to find the "good guys."
A new thread was recently posted on one of the IT forums we follow. The topic was, "How have you resolved a problem when (Big-Name Tech Company) is non-responsive?"
Answers ranged from a suggestion to fib to customer support—pretend you're interested in buying a product, then subtly ask the rep for help with your issue—to an outright diss: "Industry-worst customer service."
The one that took the cake, though, saddened and enraged us: "When you've been in IT for so long, you learn to live and accept that the vendors are not going to help you. They may be there to say they will help, but they won't."
This wasn't just a stab at (Big-Name Tech Company)—it incriminated the entire industry. (Not all of us are guilty!)
We were hardly surprised. We hear stories like this over and over again from our customers who've had similar experiences with other vendors. They're actually amazed when they call our support line and get a human being at the other end.
Problem is, most people don't appreciate good tech support until they need it. And when that day inevitably arrives, trying to get help can be a hair-pulling nightmare.
That's why, when shopping around for Internet filters, work-management tools, and all the other equipment your school needs, it's important to consider two things: the quality of the product and the quality of the customer service. Get one without the other, and you will be miserable.
Want to find good tech support? Here are the hallmarks of an exceptional team.
Responsiveness
Customers don't want to navigate through phone trees, push a bunch of buttons, and waste time on hold. Support teams should get to your call (or email) quickly. It's rare, but some companies (like ours), answer calls without diverting you through an electronic maze or torturing you with Muzak.
Efficiency
First-contact resolution is the Holy Grail, of course, and tech reps should strive to resolve your issues in one session. That means they need the right tools, personnel, and resources at their disposal. We've all called outsourced tech-support departments in faraway lands, where communication is poor and problem resolution is hit or miss. (Our tech support is 100 percent in-house.)
Patience
You know those times when you're confused and frustrated and a little embarrassed that you're stumped ("this should be an easy fix!")? That's when you need someone who's really nice and patient on the other end of the line—someone who's willing to take the time to hear you out, explain what's going on, and walk you through a resolution.
Knowledge
Tech-support reps should have a deep knowledge of how products work. Seems obvious, but we've probably all called tech support and sensed the "expert" on the other end fumbling around for answers or reading off a cheat sheet. (Each of our reps is required to know our products inside and out.)
Convenience
A good tech-support team will respond in a way that's most convenient and comfortable for you—whether it's by email, IM, or phone.
Extras
What if you could get excellent customer support free with your product purchase or subscription—and not have to buy "premium plans" just to get a little attention?
How great would it be if you didn't have to pay shipping costs in either direction?
Imagine if your hardware and software were updated and upgraded automatically—for free?
Bonuses like these tell you you're special and appreciated—and that you're not being nickel-and-dimed to death. (Example: Our company provides free, unlimited tech support; free ground shipping in the continental U.S.; and free hardware and software updates and upgrades).
Next time you're in the market for a new product, make sure the customer service is up to snuff, too.
Do you have customer-service stories—good, bad, or indifferent? Please share in the comments section.